For the past few months, I've been using this really great app for keeping track of my bank and budget accounts, and I wanted to tell you all about it.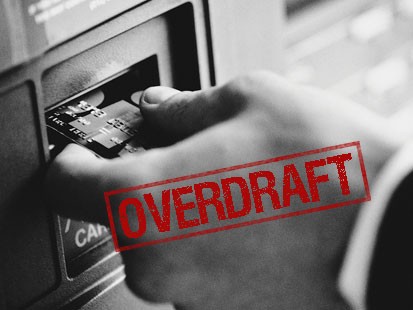 First, let me ask you: do you ever get overdraft or NSF charges? Do you hate getting them? The average fee for overdrafts or NSF's these days is $30! Even crazier, the average number of overdrafts per family in 2011 was 6.7. I'll do the math for you: that's just over $200 a year in overdraft charges!
Why do we get so many overdrafts? Because it's such a pain to keep up with how much is in our accounts, that's why! Most of us can't just press a button on our phone or computer and see how much we have in our accounts. Most of us don't get any kind of warning when we're getting ready to run out of money in our account. Also, many of us share an account with someone else, and it's really tough to keep up with who's spending what when.
Wouldn't it be great if you could quickly and easily keep track of what you're spending, see the balance on your account, be notified days in advance when you're about to run out of money in your account, and right away see what others who share your account are spending?
chext is an app that lets you easily keep track of money accounts. You set up your customer account on the chext website, then set up each of the money accounts you'd like to track with just a name and starting balance. For each money account you set up, you'll be given a unique phone number to which you can send text messages to add transactions and check your current balance. Just set up a new contact in your phone for the chext account. There's no app to buy, download, or install: just use any SMS text messaging device!
To add a transaction, you just send a text with the transaction amount and a description. For income or credits, add a plus sign (+) before the amount. After you add a transaction, chext will reply with your updated balance. If at some point you want to check your current balance, just text "bal" and chext will send the current balance.
You can also add one-time and recurring payments on the chext website on a monthly calendar. The calendar shows you what transactions occurred, or will occur, on which dates, and shows you the running balance on each date that has transactions.
The web app also has a "Reconcile" function that shows you a list of transactions for that account. You can check off each transaction as you reconcile it against a bank statement, and you can flag with a star any particular transactions that you want to track over time.
There are a couple of features that I just love. One is that chext will send you a text when it sees that you're about to run out of money to cover your upcoming scheduled transactions. The other is that you can share money accounts with other users / mobile devices, and everyone can update transactions, check the balance, and be notified when a change occurs. For married couples who share a checking account, this is a potential marriage-saver!
It's also useful for groups or organizations where multiple people make purchases from the same account(s).
In addition to bank accounts, you can also use it for budget-allocation accounts. Say you want to budget a certain amount for gifts. Just create a Gifts account in chext, and you can track your transactions and balances just like you would if you had a dedicated bank account for gift purchases. It's actually better than a real account, because you can pay however you like — credit card, check, cash — and you'll always know how you're doing with that budgeted amount. This is actually the main thing for which I personally use chext, and I love how easily I can track our spending on food, family fun, etc. It lets us get the advantages of a cash envelope system, without all the pain of handling cash and paper envelopes.
chext uses standard SMS text messaging for notifications, so standard texting charges apply, but there is no per-message charge from chext.
Each user can also configure whether to be notified for each of the following:
If the balance will be low in the future
When you have pending transactions today (sent at 8am the day the transactions will hit)
When a transaction has been created or changed
At the website on the Support page, you can share ideas, questions, problems, or praises. They also have live chat help available. I've communicated on several occasions with the chext support team, and they've always been very responsive and helpful.
You can try chext for free for 7 days. After that, it costs 4.99 USD per month, and you can cancel at any time.
Now, let's do the math. If the average family pays $30 per overdraft, and has 6.7 overdrafts per year, that's $201 per year. If you use chext for a year and it helps you to not get any overdrafts, chext will cost you $4.99 x 12 or $59.88 for the year, and you'll save an average of $201 on overdrafts, so you'll come out $141.12 ahead for the year. Add to that the improved financial communications between you and your spouse, and the peace of mind of knowing how much money you have available at any given time, and chext is a no-brainer!
On top of all that, they also just added a referral program. They'll give you a dollar a month for each new customer you refer, for every month they remain subscribed to chext. Again, doing the math, if you refer five people, you get chext for free!
Go "chext" it out and let me know what you think!